3 Part Carbonless Forms Printing
We offer custom business forms and custom carbonless forms printing on very affordable price. We specialize in 2 part, 3 part, 4 part & 5 part carbonless forms. 3 part Carbonless Forms are also known as 3 part NCR forms, triplicate forms , multi part forms and 3 part carbon paper sheets. Have our professional graphic designer custom design the carbonless forms free for you. Compare our prices with the others and you will be pleasantly surprised. So, don't wait and take advantage of wholesale carbonless forms pricing at EzeePrinting.com and start marketing your business.
Custom Printing

Custom Sizes, B&W or color printing, Individually glued, pad binding, wrap around cover binding options.




FREE Designing
We offer FREE graphic designing services with each printing order. Unlimited revisions!


Binding Options


Loose, Edge Glued, Padding, Perforated Books, Wrap Around Cover, Spiral



At EzeePrinting.com, we are offering FREE graphic designing services with the printing order. We can design your carbonless forms from scratch or can re-create your existing forms if required from scanned images & digital pictures.

Our cheap 3 part carbonless forms are available in any custom size that you require. Most commonly used sizes are 8.5" x 11" (letter size), 8.5" x 5.5" (half letter size) , 4.25" x 5.5" (quarter letter size) & 8.5" x 14" (legal size). You may order in vertical or portrait design layout as per your requirements.

Standard paper color combination for 3-part carbonless NCR forms is white, yellow and pink. However, we can produce your order with non-standard color schemes as well.

Forms can be finished with or without sequential numbering. Numbers can be printed anywhere on the forms, in ascending or descending order, black or red ink as per your choice.

Perforation and hole drilling as per demand. Order today for discounted carbonless forms printing.

View Pad Binding View Book Binding
| | |
| --- | --- |
| Size | 8.5" x 11" |
| Stock | 20lb Carbonless Paper |
| Printing | Offset Printing |
If you are unable to find the required specifications Click here to get a custom quote or ask our Live Support team. You can also call us at 647-477-1791 for further assistance.
| | | | | |
| --- | --- | --- | --- | --- |
| Quantity | 250 Sets | 500 Sets | 1000 Sets | 2000 Sets |
| Price | $244.99 | $314.99 | $389.99 | $509.99 |
| | | | | |
Our prices includes: FREE Designing, FREE shipping. NO hidden Charges or Separate Setup Fee !
Looking for custom printing? Not finding the right size, quantity or color. Request a CUSTOM QUOTE NOW!
Binding Options:
Edge Glued Sets:




These carbonless forms are glued at the edge only so you may simply pull them apart when you want them separated. We use special easy to pull-apart glue to adhere them together.

Individually glued forms are most suitable and less costly option when you have separate file management to save the receipts.

While using dot matrix printer at point of sales, the only kind of carbon copy forms that can be used are individually glued forms.
Spiral Binding





Spiral binding is the strongest type of binding. We make these using durable coil of plastic or metal which is inserted and twisted through the small holes punched in your carbonless forms. Cover pages are also included in the spiral binding. The beauty of spiral binding or coil binding is that it makes all the sets and cover pages as one stalk and yet still let these open freely.

The biggest advantage of spiral binding is to allow book to open full 360 degrees. You may open your book flat and it remains flat on table surface. Therefore spiral binding is excellent choice where you need to open the book flat, for example sales forms, instructions books, any kind of field books. Since these can be opened fully so you do not need to worry about the important information to get buried in the spine.
BOOK BINDING

Pad Binding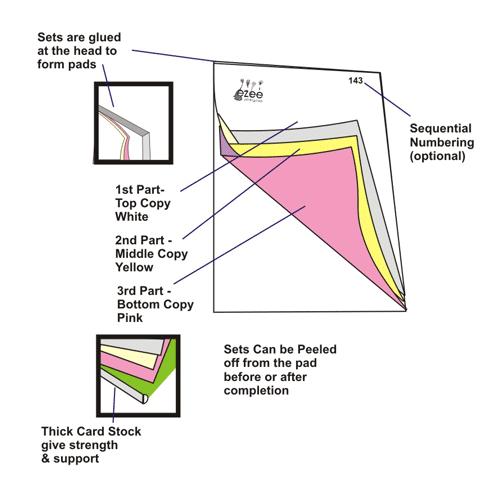 Differnece between Book Binding and Pad Binding
The difference between carbonless forms books binding and carbonless forms pad binding is that book binding allow you to leave the completed / filled triplicate sheets in the book for your records permanently, where as in carbonless forms pads binding each sheet of the set must be removed before you can move onto the next set, so you can't leave any triplicates in the pad, that is why filled triplicate sheets would need to be filed or stored some other way if needed.
Multi Page Triplicate Forms

Do you have a form that does not finish on 1 page; rather it has a lot of text and is printed on 2 or 3 pages. And on last page you have entries for the signatures. Then we have solution for you, as EzeePrinting offers multi page triplicate forms.
Similarly we offer custom serial numbering. Our custom triplicate multipage carbonless forms would have same serial numbering on the all the pages of same form. Next serial numbering would be punched on all the pages of next form and so on.
Binding options: We can collate all the pages and glue them together. So each form would be individually glued with all the pages and their triplicate copies underneath, collectively making one complete multipage carbonless form. You may take one and fill for one deal or agreement.
These triplicate multipages NCR forms are mostly used when you have a agreement to sign with all the terms and conditions read and signed by the customer. With a lot of text and info to be entered before getting it signed off by client. For example, custom triplicate agreement NCR forms, custom triplicate lease NCR forms, custom triplicate stitching forms. Other types of business also use these types of forms, like warehouse management etc.