3 Part Carbonless Forms Printing
We offer custom business forms and custom carbonless forms printing on very affordable price. We specialize in printing carbonless forms in 2 part NCR, 3 part NCR, 4 part NCR & 5 part NCR paper. 3 part Carbonless Forms are also known as 3 part NCR forms, triplicate forms, custom business forms, multi part forms, continuous forms, computer accounting forms and 3 part carbon paper sheets. Have our professional graphic designer custom design the carbonless forms free for you. Compare our prices with the others and you will be pleasantly surprised. So, don't wait and take advantage of wholesale carbonless forms pricing at EzeePrinting.com and start marketing your business.
Custom Printing

Get Product Foil Stamped, Embossed, Die Cut and other post printing options.




FREE Designing

We offer FREE Graphic designing along with each printing order.

Need Order Urgent?

Choose from one of our quick turnaround services with Express shipping.



Our cheap 3 part carbonless forms are available in many standard sizes i.e. 8.5" x 11" NCR Forms, 5" x 8" NCR Forms, 8.5" x 14" NCR Forms and any custom size that you will need.

You may order in vertical or portrait design layout as per your requirements. Many paper color sequences to choose from i.e. pink, grey, white, blue, yellow, canary and green.

We offer custom 3-part carbonless forms on 20lb - 28 lb carbonless paper. Perforation and Serial Numbering as per demand. Order today for discounted carbonless forms printing process.

View Pad Binding View Book Binding
| | |
| --- | --- |
| Size | 8.5" x 11" |
| Stock | 20lb Carbonless Paper |
| Printing | Offset Printing |
If you are unable to find the required specifications Click here to get a custom quote or ask our Live Support team. You can also call us at 647-477-1791 for further assistance.
| | | | | |
| --- | --- | --- | --- | --- |
| Quantity | 100 | 250 | 500 | 1000 |
| Price | $162.17 | $219.74 | $265.14 | $389.34 |
| | | | | |
Our prices includes: FREE Designing, FREE lamination, FREE shipping. NO hidden Charges or Fee !
Looking for custom printing? Not finding the right size, quantity or color. Request a CUSTOM QUOTE NOW!
Types of Carbonless forms
Generally Carbonless Paper are of 3 types of paper. Each of them is with a different combination of coatings.
In any given set.( 3part )
Top paper is called as (Coated Back) CB
Middle papers is called as (Coated Front & Back) CFB
Bottom paper is called as (Coated Front) CF
CB (top) sheets of carbonless paper have a pressure sensitive coating on the back of the paper. This coating comprises of tiny microcapusles containing colourless oil based dyes known as colourformers. When while writing pressure is applied to the front of the sheet eg. by a pen or pencil - the capsules burst and the dyes are released.
The CF (bottom) sheets have a clay based absorbent coating which gives a clear image when exposed to the colourformer dyes.
CFB (middle) sheets have a both a CF coating and a CB coating and is therefore capable of both receiving and passing on the image. It is possible to have multiple middle sheets the limit being the amount of pressure that you are able to transmit through the sheets.
BOOK BINDING

Pad Binding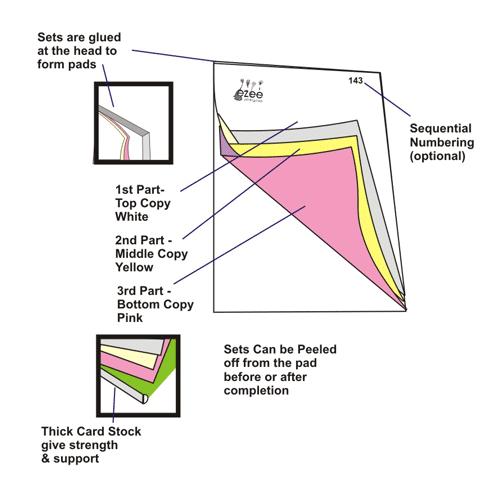 Differnece between Book Binding and Pad Binding
The difference between carbonless forms books binding and carbonless forms pad binding is that book binding allow you to leave the completed / filled triplicate sheets in the book for your records permanently, where as in carbonless forms pads binding each sheet of the set must be removed before you can move onto the next set, so you can't leave any triplicates in the pad, that is why filled triplicate sheets would need to be filed or stored some other way if needed.
How to use Carbonless Paper to make your own In-House Form
If you often create new forms, make changes to your forms, or simply wish to print your own forms immediately from your printer, our inkjet and
laser carbonless paper
provides an immediate solution
Four Steps to your first form
1.Print on the "Image Side" only.
This paper will feed and print without difficulty in your inkjet or laser printer, but proper paper loading is critical. Packages are clearly marked with "image side." Load the pre-collated paper correctly so that your printer prints on the image side of the
carbonless paper
.
2.Print the correct number of sheets.
Like all other printing, you must print
carbonless paper
one sheet at a time, so a
2-part form
requires you to print two copies and a
5-part form
requires you to print five copies. Ex: to print twenty
3-part forms
, ask your printer to print 60 times. The result would be twenty
3-part forms
.
3.Verify the Sheet Order.
If you print on the image side, your new form will work. But depending on how your printer feeds paper through the machine, you may need to rearrange the sheets into the correct order if they are reversed.
4.Staple or Paper Clip your form.
You are now ready to use your carbonless form. Keep in mind these forms work by physical pressure and contact through the sheets. For best results, use a firm writing style with a ballpoint pen.
Carbonless forms are also known as NCR forms and printing these forms have become very demanding over the time. The increasing popularity for carbonless forms is because of many factors and the best one is that carbonless forms are friendly to environment. Since carbon paper is not removed after creating the new copy, resulting in minimal usage. Other factors are the multi-functionality of carbonless forms and the speed it offers.
These NCR forms are not only copiers but they also do not leave ink dots on paper. In addition to these, carbonless forms can help marketing of your business as well. All these functions of the quality product are the basic reason of the growth of printing carbonless forms in industry in recent years.
We also call this product as :
Carbonless Paper, Carbonless Triplicates, Carbonless Notebook, Carbonless Copy Paper, Blank Carbonless Paper, Carbonless Tag, Business Carbonless Form, Carbonless Printing Book, Carbonless Receipt, Carbonless Custom Form, Carbonless Invoice, Carbonless Paper Stock, 3 Part Carbonless Form, 3 Part Carbonless Paper, Three Part Carbonless Forms, Business Letter Carbon Copies, Carbon Copy Paper Sheet, Carbon Copy Notebook, Carbon Copy Letter, Carbon Copy Printing, Invoice Printing, Custom Invoice Printing, Printing Company Invoices